Valentine's Day Special – D/s Chat with Dr. K & Big Daddy! Ep. 13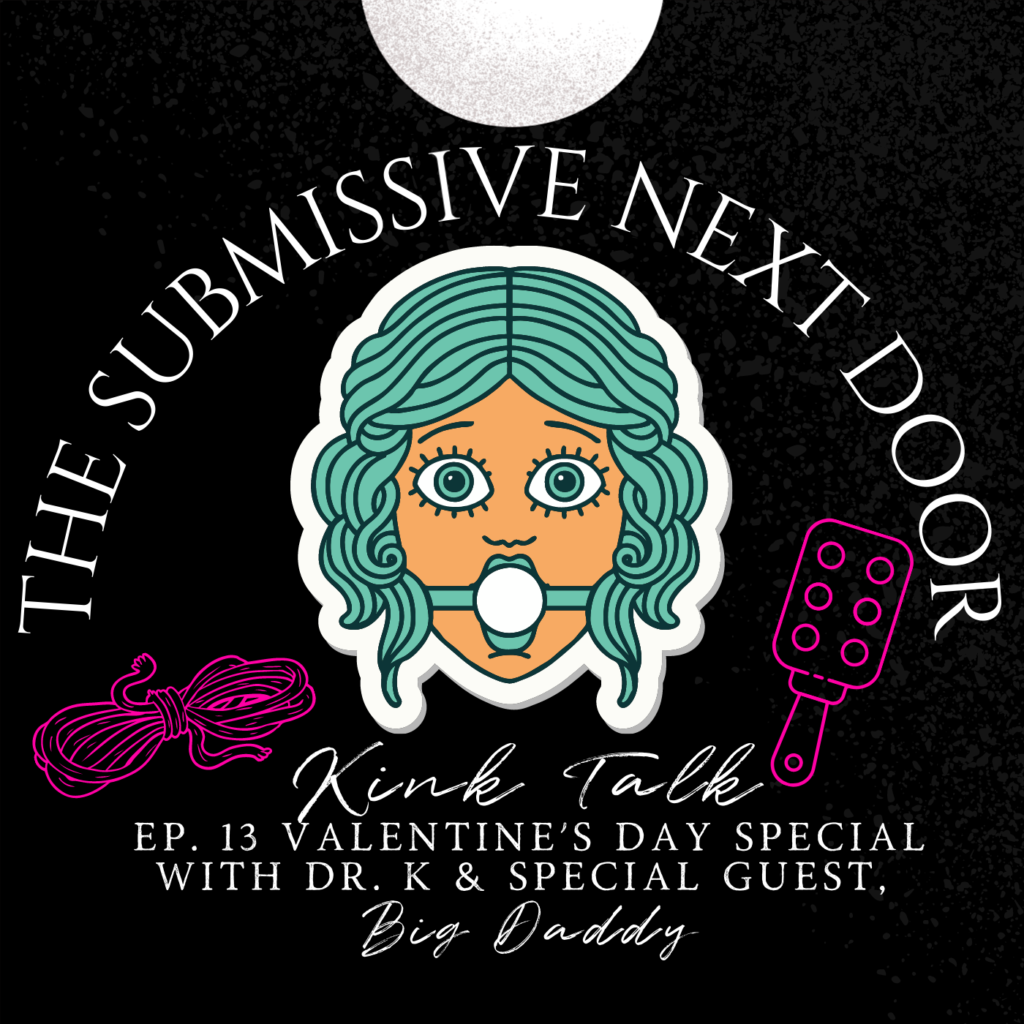 Happy Valentine's Day, Kinksters! Today, I thought I'd share with you a VERY intimate chat with my Dom, Big Daddy! We get personal about lessons in D/s, and Big Daddy let's me grill him about his honest perspectives and insights of being a 24/7 pleasure Dom. Kick back and stay awhile! Big Daddy is in the house!
YOUTUBE VIDEO PODCAST VERSION
Psss…. Don't forget to check out The Submissive Next Door Podcast on Apple Podcast/iTunes– subscribe and give us a rating, pretty please! If you like what you hear and see, please consider becoming a Patreon. Patreon members get episodes early and access to an exclusive bonus feed and provocative photography projects. Patreon also is home to Dr. K's Erotica Reviewing "Naughty Librarian" series! Merch, workshops, kink events, and more for as little as $3 a month. You guys are amazing!
---

This podcast, brought to you by Dr. K, Holistic Sexuality Educator, fitness trainer, model, and promoter of erotic intelligence, is an honest and down to Earth deep dive into the world of Sex, BDSM, and alternative lifestyle. Dr. K. is a 24/7 submissive, performer, erotica author, sexuality researcher and scholar.
Topics will range from sex education, non-monogamy, kink, BDSM, fetishes, kinky travels, sex toys, experiences, OnlyFans, SSC, Shibari, and so much more!
On this page, you can use the cute little player to stream or download the latest episodes. Each episode can also be heard on your favorite podcasting platform! Below, you will also find direct access to each episode's details which contains episodic notes. If any episode also has a video companion, you'll find it on the individual page, along with affiliate and sponsorship information. When we do giveaways, challenges, or events, they will also be listed on that episode's page.
Contact DrK@Kipani.life for advertising & promotional partnership inquiries, or if you are interested in a guest episode.
Links for this Episode:
---
You are also helping to support the continuation of The Submissive Next Door Podcast, and Dr. K's work with advocacy in the D/s and Sexuality communities. Thank you for your support!
Affiliate Links – Feel like shopping? Use these links to get a discount and help support the podcast too!
The Stockroom – BDSM and D/s luxury toys, tools, and gear
Lovense – Luxury High Tech Sex Toys for Love at a Distance
SheVibe – Sex Positive Sex Toys for the Adventurous!
Dr. K's Official Goodreads page – For the Book Lover
Social Links